I was given the chance to review a beautiful tile from

http://www.decorativeceilingtiles.net and I would like to thank them for allowing me to do this.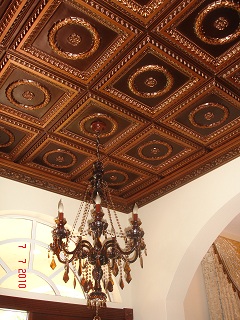 Tin Ceiling Tiles 2x2 & 2x4
Real Tin Ceiling Tiles are made out of Tin Plated Steel and must be primed and painted from both sides to prevent corrosion. You may have read that these tiles were invented because Plaster Ceilings were too hard and too messy to make and not many people could afford them. The truth is that people want beautiful ceilings and Tin Ceilings are definetly just that. Mostly popular in The USA but also used in Canada, Europe & Australia. Yes, these tiles are great to add beauty to your space but also to cover the damaged ceilings or walls that you just can not find anyone to restore at reasonable cost. We carry about 200 different patterns from 3x3 to 24x24 patterns. So how can these tiles be used on your ceiling? There are two ways. They could be nailed to your ceiling or dropped into your grid system. We do have the real tin but as I have mentioned, it is our most economical metal tile starting only at $7.75 per tile and it does have to be primed and painted to prevent rust. So if this is no problem this is the best option for you as you can save some money and get beautiful look. These are inexpensive, and just awesome!!!! I am planning on buying soon!!! These are a must have, go check them out, you won't regret it!
!!
I was in no way compensated from decorative ceiling tiles, and all the comments and opinions are mine alone.