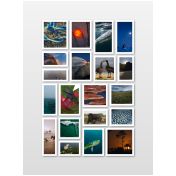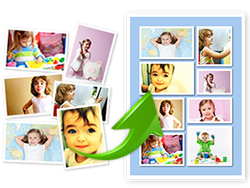 I am so excited today to share with you a wonderful resource that is so incredibly versatile and fun! I love taking pictures, and I always say that I will do something with them later, but very often, later doesn't come! It just so happens that
CollageIt
is the perfect program that makes later come a lot sooner. Let me explain!
PearlMountain Soft has announced immediate availability of CollageIt. It allows you to form inspiring collages for all your favorite photos in seconds. The program creates templates for any number of pictures, requires no additional training and transforms ordinary photo viewing into a much more amusing experience.
Let's admit it, looking through familiar photos or showing them one by one to friends and relatives over and over again isn't that exciting. Is there a more vivid way to value your memories? Yes, there is. CollageIt was designed to give everyone an opportunity to brighten up one's photo collection. In a matter of seconds, it will turn any ordinary set of photos into an impressive array of collages.
With CollageIt, collage creation is effortless and comfortable. Basically, you can just add photos and click the Generate Preview button. Click the button again to see another layout. If you add more images, CollageIt will conveniently form a new fitting layout pattern. After you pick the collage you liked the most, you can save it into a variety of popular image formats. Of course, you can also diversify the collage look yourself.
As simple as the program is, there's still a lot of room for creativity. The fact that a stunning collage is done in seconds doesn't mean you can't have fun playing with different easily available layout options. By changing the background color, distance between pictures, rotation angle and series of other options you can endlessly create collages with new design and each time results will look unique and fresh.
Pearl Mountain Software, Inc was founded in 2006. Pearl Mountain Soft is a software company specializing in development of powerful software. Customer satisfaction is our first priority and we aim to produce only top quality software .Our goal is to create high quality, powerful software and to provide superior service and support t our customers.
So, my dear friends, how would you like to win your very own CollageIt? I have nineteen codes, and the giveaway is open worldwide! So just fill in the rafflecopter below, and you will be entered to win! Be sure to enter by July 15 at 9:00 P.M. Pacific time.
I want to thank my good blogging friends for joining me on this giveaway! Be sure to check out their blogs when you get a chance. You may discover some new blogs with some great content!
a Rafflecopter giveaway